Important! If your iOS version is 14.1 or 14.2 please upgrade to the latest version (14.4 or higher). If you're on 14 or below, the process will also work just fine.
1 - Remove your SIM card and insert the UMS as indicated below.
1.1 - If you have an iPhone ranging from the iPhone 5S to iPhone XS please see this video for placement instructions.

1.2 - If on the other hand you have an iPhone XS Max, XR or newer please place your SIM using these instructions


* If you are having issues placing the UnlockMySIM Sticker in your iPhone XS Max or Xr (or newer models), click
here
to check how to do it.
Once the UMS and SIM are placed together on your normal SIM tray, push gently to insert and follow the rest of these steps.
2 - How to set up your iPhone with the UMS.
Wait a few seconds until the following menu is displayed: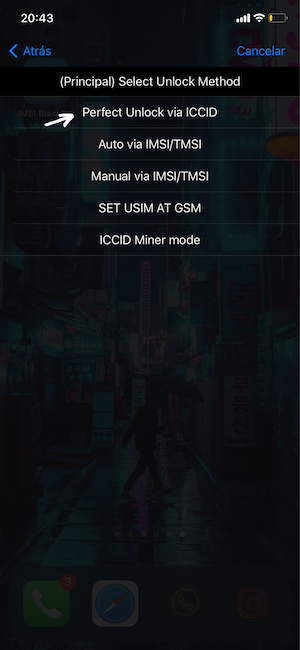 Select the ICCID Perfect Unlock option and delete the default ICC and replace it with this one: 89014104279605344027




If you need to set up your Internet connection, you can check how to do it here
Your UMS sticker MUST remain inside your phone at all times to guarantee the unlocking status.
Congratulations! Your iPhone is now unlocked!
UnlockMySIM Support and Frequently Asked Questions

If you run into any trouble configuring your UMS, please visit our Support Forum.

You'll find answers to most common problems and workarounds.